Laura Anderson, Author of IdRatherBeAtTheSpa.com has graced FTLBeauty with her lovely face and beautiful mind. Here is what The Spa Connoisseur has to say about Miami Spas.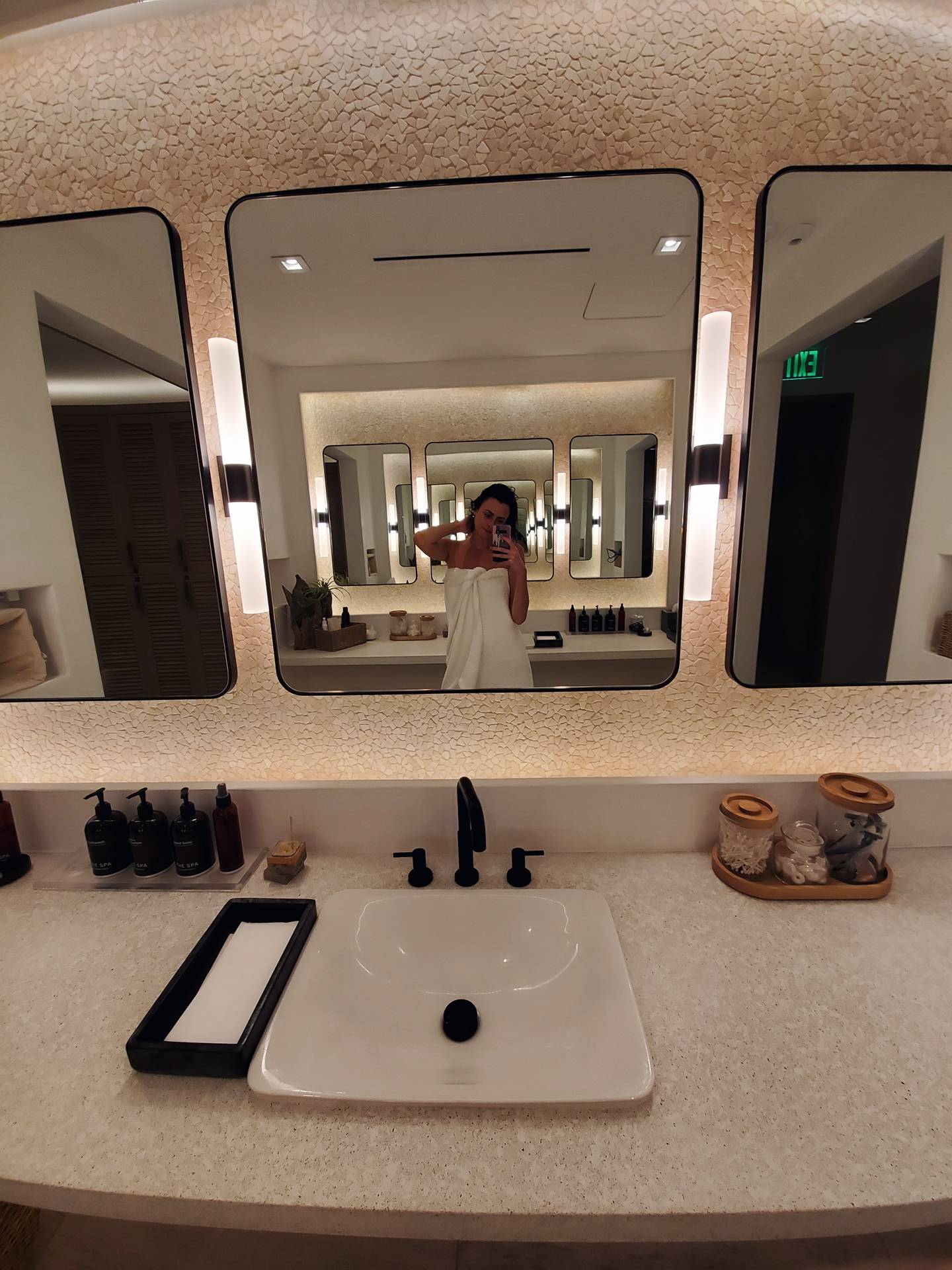 Laura's Top Picks for
Miami Spa Month 2020
While everything this year has been a little out of the ordinary, 2020 has been one crazy year, and i'm so proud of us all for attempting to get through it. Luckily, we can take solace in knowing that one of the most sacred times of the year is still taking place, with extra precautions in place of course. Miami Spa Month will be presiding and you can indulge and pamper yourself in every single way that you deserve. Facials, massages, body treatments, you name it. I've tried and tested the majority of all the spas in Miami, naturally, and these are the official "I'd Rather Be At The Spa Top Picks for Miami Spa Month 2020". Spoil yourself, enjoy, and you can thank me later!
(You're welcome in advance)
---
This luxurious property is tucked away in what feels like it's own private little oasis on Brickell Key Drive, and while the resort is gorgeous, let's be honest, I'm only there for the spa.
The Spa at the Mandarin Oriental is unparalleled with traditional features such as 11 different treatment rooms, each with private showers, 6 luxurious spa suites overlooking the Biscayne Bay, sauna + steam rooms, fitness center, outdoor fitness classes, and pool access, this Spa meets all my I'd Rather Be at the Spa main criteria (Very critical). I typically steer clear of any spa that doesn't have full amenities. Honestly, what's the point of the Spa if you don't get the full sha-bang? I'm no dummy, I'm here for the full experience. However, with all the safety precautions in place, most amenities are not open. Luckily, with all the private treatment rooms you can enjoy your facial or massage in a sanitized socially distanced haven.
I'd Rather be at the Spa recommended treatment at the Mandarin Oriental Spa
The Biologique Recherche Slim & Sculpt
They describe this 90-minute treatment as improving the look and feel of your body through lymphatic massage and Biologique Recherche detoxing wrap. But my friend Frankie describes Biologique a bit better: "If you have ever desired to glow from within like white Carrera marble, Biologique Recherche will achieve that goal. No, but actually…" And if that doesn't entice one I don't know what will!. At a price point of $295 and a take-home goodie bag, this Miami Spa special is ideal! (other specials starting at $260, include valet and pool if open. Spa amenities may be limited, call before booking!)
---
Not only is this the Carillon a fabulous hotel in Miami, but it also serves a full-blown wellness resort complete with thermal therapies and more! So they happen to know a thing or two when it comes to the best spa treatments while pampering the guest's mind, body, and soul. And I really love that about them. The property sits nicely on the beach and their main goal is to give each guest personalized attention customized to their needs. Ugh talk about being taken care of, sign me up! They are ensuring intense sanitation measures as well as practicing social distancing.
I'd Rather be at the Spa recommended treatment at the Wellness Spa at the Carillon Miami
Sound Therapy Massage
This massage is the literal definition of healing relaxation. Incorporating healing sound and vibrations, this massage will not only relax and soothe your mind+body but will calm your inner being. At a price point starting at only $109 with included usage of pool + beach and complimentary valet, you're definitely indulging without splurging. (Spa amenities may be limited, call before booking!)
---
If you have ever desired to glow from within like white Carrera marble, Biologique Recherche will achieve that goal. No, but actually…"
---
I personally love the Miami Beach EDITION for a number of reasons, elegant chic interior rooms, trendy Tulum type vibe, and a handful of great memories of nightly escapades in their downstairs bar – The Basement, complete with a bowling alley, and an ice skating rink (Yes, an ice skating rink in the basement!). But naturally, for someone such as myself, I namely pick resorts not solely based on the level of chic but also on the level of outstanding spa. The spa at the Edition is great, a classic day spa will all the bells and whistles. Elegant and sophisticated you feel immediately relaxed and at ease upon arrival. With an array of private treatment rooms, your safety is ensured.
I'd Rather be at the Spa recommended treatment at the Miami Beach Edition Spa
CBD+Sticks and Stones Massage
You're going to absolutely relax and release with a combination of hot sticks + stones infused with CBD oils to relieve tension. This 60-minute massage will have you so zen you'll be falling asleep on the table. At soothing price points starting at $109 and usage of pool, you can spend the whole day relaxing safely. (Spa amenities may be limited, call before booking!)
---
If you haven't been to this stunning Coral Gables gem it's an absolute must! Still encapsulating it's original 1920's Mediterranean architecture this resort truly transports you to another place and time. It is the perfect place to staycation right now since it really makes you feel like you're on an Indulgent Italian getaway. And the Spa at the Biltmore Coral Gables gives you the exact same getaway feeling. With panoramic views and an assortment of luxury treatments offered sanitized and safe, this Spa is an elite treat.
I'd Rather be at the Spa recommended treatment at the Biltmore Coral Gables
Summer Glow Facial
50 minutes of hydrating and plumping bliss. This facial is exactly what the Floridian doctor ordered, repairing and re-moisturizing sun-parched skin. Starting at a price point of a hot $109 and complimentary parking you are sure to leave the Biltmore Coral Gables Spa refreshed and glowing. (Spa amenities may be limited, call before booking!)
---
1 Hotels pride themselves on being eco-friendly and maintaining superior service, and The 1 Hotel South Beach is no exception. This gorgeous earthy resort has you feeling calmed and connected to mother earth the moment you step foot in it. It's a wonderful place even simply to spend the day, sipping a cocktail and having some mochi at their rooftop bar and pool. The hotel is simply great, but let's get real, the real reason we're here is for the Spa. The Bambford Spa at the 1 Hotel South Beach, following suit with the rest of the resort, incorporates sustainability and exudes relaxation. They are being diligent in the safety of their guests and ensuring a dreamy and safe day at the spa.
I'd Rather be at the Spa recommended treatment at the Bamford Wellness Spa at 1 Hotel South Beach
Rose Quartz Collagen Facial
Activate your heart chakra for some serious self-love and compassion with this 50-minute long facial that will leave your skin tightened and brightened. Massages and facials starting at a price point of $109 and you can enjoy complimentary beach access and valet. (Spa amenities may be limited, call before booking!)
And there you have it, the official I'd Rather be at the Spa top picks for Miami Spa month 2020. So go ahead and treat yourself! And while these places are taking precautions and being safe, please don't be an idiot or be "that guy or gal", wear a mask and be mindful. It may not be like the Spa Months we've had in the past, but it's literally all we have right now, so Indulge, relax, and get your spa on!
** Disclaimer. Not mentioned in my list is the Standard Miami Spa, with their insanely lavish Hammam. There is a reason is it not mentioned, that reason is they are currently closed. It is devastating to me as it is in fact, my favorite spa in all of Miami. And to make matters worse rumor is the spa won't reopen until mid-2021. Hearing this news absolutely gutted me and I personally really do not wish to discuss it any further. One silver lining, however, the hotel side is said to be reopening its doors in Sept 2020. So let's all take a moment to send positive vibes to ensure this happens!